About Us
Madras Indian Cuisine is a Indian takeaway in Birmingham. Why don't you try our Tikka Korma or Veg Balti?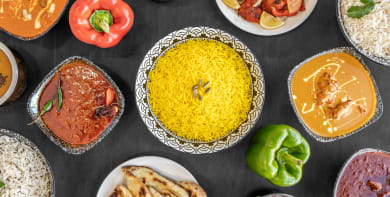 Reviews
53 reviews
Kevin
"Love this takeaway, the food is first class and always on time. Best Indian food in Birmingham."
03/07/2021
Judith
"Two Excellent takeaway meals , and great service"
08/05/2021
nicola
"First time ordering from here. Really enjoyed the food, pathia was perfectly spiced, and the meal deal on offer is excellent value"
28/04/2021
Judith
"Chicken tikka mains outstanding and chicken Dhansak very good . Great takeaway"
17/04/2021
Menu
Plain or Spicy Poppadom Plain
£0.60
Plain or Spicy Poppadom Spicy
£0.60
Chunky Samosa Meat
Crispy pastry filled with lightly spiced minced lamb or fresh spring vegetable
£2.75
Chunky Samosa Vegetable
Crispy pastry filled with lightly spiced minced lamb or fresh spring vegetable
£2.75
Lamb Chops 3 Pcs
Cooked in a clay oven with onions and peppers
£4.95
Paneer Tikka
Indian cottage cheese cooked in a clay oven with onions and peppers
£3.45
Madras Mix Kebab
Chicken tikka, lamb tikka, sheek kebab and onion bhaji
£3.95
Tandoori Chicken (On the Bone)
£2.95
Tandoori King Prawn
Lightly spiced and cooked in the clay oven
£4.95
Salmon Tikka 2pcs
Served with lightly spiced fried onions
£4.95
Pan Fried Seabas
Served with spicy vegetable bhaji
£4.95
Fish Pakora
Strips of tilapia coated in a lightly spiced tempura batter
£3.25
Pathia Puree Prawn
Prawn or king prawn pathia served ona fluffy, puree bread
£3.75
Pathia Puree King Prawn
Prawn or king prawn pathia served ona fluffy, puree bread
£4.55
Tandoori Chicken (2pc)
On the bone
£6.95
Tikka Chicken or Lamb Chicken
£6.25
Tikka Chicken or Lamb Lamb
£6.25
Mardas Mix Grill
Chicken tikka, lamb tikka, tandoori chicken, sheek kebab, king prawn and naan bread
£7.95
Chicken or Lamb Shashlik Chicken
£6.75
Chicken or Lamb Shashlik Lamb
£7.25
Curry Fresh Vegetable
Medium
£5.75
Bhuna Fresh Vegetable
Cooked with fresh onions and tomatoes
£5.75
Bhuna Chicken
Cooked with fresh onions and tomatoes
£5.95
Bhuna Prawn
Cooked with fresh onions and tomatoes
£5.95
Bhuna Lamb
Cooked with fresh onions and tomatoes
£6.25
Bhuna King Prawn
Cooked with fresh onions and tomatoes
£7.95
Madras Fresh Vegetable
Hot
£5.75
Pathia Fresh Vegetable
Sweet and sour hot
£5.75
Pathia Chicken
Sweet and sour hot
£5.95
Pathia Prawn
Sweet and sour hot
£5.95
Pathia Lamb
Sweet and sour hot
£6.25
Pathia King Prawn
Sweet and sour hot
£7.95
Dupiaza Fresh Vegetable
Cooked using chunks of onions and green pepper
£5.75
Dupiaza Chicken
Cooked using chunks of onions and green pepper
£5.95
Dupiaza Prawn
Cooked using chunks of onions and green pepper
£5.95
Dupiaza Lamb
Cooked using chunks of onions and green pepper
£6.25
Dupiaza King Prawn
Cooked using chunks of onions and green pepper
£7.95
Dansak Fresh Vegetable
Hot, sweet and sour cooked with lentils and pineapple
£5.75
Dansak Chicken
Hot, sweet and sour cooked with lentils and pineapple
£5.95
Dansak Prawn
Hot, sweet and sour cooked with lentils and pineapple
£5.95
Dansak Lamb
Hot, sweet and sour cooked with lentils and pineapple
£6.25
Dansak King Prawn
Hot, sweet and sour cooked with lentils and pineapple
£7.95
Rogan Josh Fresh Vegetable
Garnished with tomatoes & cashew nuts
£5.75
Rogan Josh Chicken
Garnished with tomatoes & cashew nuts
£5.95
Rogan Josh Prawn
Garnished with tomatoes & cashew nuts
£5.95
Rogan Josh Lamb
Garnished with tomatoes & cashew nuts
£6.25
Rogan Josh King Prawn
Garnished with tomatoes & cashew nuts
£7.95
Sagwalla Fresh Vegetable
Cooked with spinach
£5.75
Sagwalla Chicken
Cooked with spinach
£5.95
Sagwalla Prawn
Cooked with spinach
£5.95
Sagwalla Lamb
Cooked with spinach
£6.25
Sagwalla King Prawn
Cooked with spinach
£7.95
Chicken or Lamb Tikka Masala Chicken
£6.95
Chicken or Lamb Tikka Masala Lamb
£6.95
Korma Chicken or Lamb Chicken
£6.95
Korma Chicken or Lamb Lamb
£6.95
Ameri Murgh
Tender strips of chicken cooked with pulp mango, mild spices, in a fresh cream and almond sauce
£6.95
Passanda Chicken or Lamb
Specially cooked silces of chicken or lamb marinated with a yoghurt based sauce, cooked in a fresh cream, mixed ground nuts and almond powder
£6.95
Lamb Nashalee
Tender fillet of lamb cooked with green chilli paste and ginger. Hot and spicy
£7.95
Chicken or Lamb Rezala Chicken
Cooked with yoghurt and our chef's special spice mix
£7.95
Chicken or Lamb Rezala Lamb
Cooked with yoghurt and our chef's special spice mix
£7.95
Chicken or Lamb Karahi Chicken
Medium hot dish cooked with onions, peppers, chilli and corriander
£6.95
Chicken or Lamb Karahi Lamb
Medium hot dish cooked with onions, peppers, chilli and corriander
£7.95
Chicken or Lamb Tikka Jalfrezi Chicken
Hot dish cooked using onions, peppers, chilli and corriander
£6.95
Chicken or Lamb Tikka Jalfrezi Lamb
Hot dish cooked using onions, peppers, chilli and corriander
£6.95
Chicken or Lamb Chilli Masala Chicken
Marinated chicken or lamb cooked with onions, peppers, green chilli in a specially prepared masala sauce. Fairly hot
£6.95
Chicken or Lamb Chilli Masala Lamb
Marinated chicken or lamb cooked with onions, peppers, green chilli in a specially prepared masala sauce. Fairly hot
£6.95
Special Garlic Chicken or Lamb Chicken
Thinly sliced chicken or lamb tikka cooked with cloves of crushed garlic, onions, peppers in a special blend of spices and corriander
£7.95
Special Garlic Chicken or Lamb Lamb
Thinly sliced chicken or lamb tikka cooked with cloves of crushed garlic, onions, peppers in a special blend of spices and corriander
£7.95
Desi Khazana
Tender pieces of chicken and king prawn cooked with green peppers, tomatoes, onions in a rich spicy mince meat sauce. Slightly hot
£7.95
Murgh Taj India
Chicken tikka, diced and slowly cooked with green peppers and onions in a delicious medium sauce. Finally garnished with caramelised onions and fresh corriander
£7.95
Lamb Shatkora
Tender pieces of lamb tikka cooked in a citrus sauce using a blend of herbs and spices to create a slightly hot bitter sweet flavour
£7.95
Nawabi Chicken or Lamb Chicken
Saucy dish cooked with almod powder and fresh garlic topped with a touch of cream
£7.95
Nawabi Chicken or Lamb Lamb
Saucy dish cooked with almod powder and fresh garlic topped with a touch of cream
£7.95
Chicken Silsila
Succulent chicken tikka cooked with garlic, herbs and original spices. Fairly hot
£7.95
Desi Beef Aloo
Slow cooked on the bone beef in a delicious home made sauce with spicy potatoes. Slightly hot
£7.95
Chicken or Lamb Biriyani Chicken
£7.25
Chicken or Lamb Biriyani Lamb
£7.25
Tikka Sag Biriyani Chicken
£7.95
House Special Biriyani
Chicken, lamb and prawns
£8.95
Maser Jhool
The original recipe of Bengali fishermen. Chunks of tilapia cooked in a medium tasty sauce
£8.95
Fish Chilli Masala
Fillets of tilapia marinated and cooked with onions, peppers, green chilli in a specially prepared masala sauce. Fairly hot
£7.95
Salmon Fish Silsila
Salmon fillets cooked with garlic, herbs and original spices. Fairly hot
£7.95
Pan Fried Sea Bass
Fillets of sea bass lightly marinated with our chef's seafood spices, pan fried, served with vegetable bhaji
£8.95
Meal Deal
1 Poppadom - Mint yoghurt, Onion salad
Any Traditional Starter - Excludes Lamb chops and King prawn
Any Traditional or Tandoori Main - Excludes King prawn, Mix grill & Lamb chops
Any Rice or Naan or Chips
Can of Drink
£10.00
Contact Us
Find Us
1774 Coventry Road, Birmingham, B261PB
We deliver to
B10, B11, B25, B26, B27, B33, B37, B9, B92