About Us
Madras Indian Cuisine is a Indian takeaway in Birmingham. Why don't you try our Tikka Korma or Veg Balti?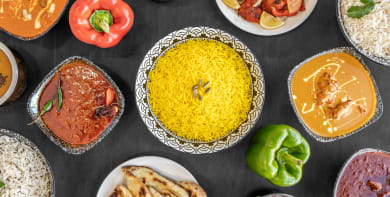 Reviews
80 reviews
Daniel
"Brilliant food as always"
28/02/2021
jason
"I dont usually bother leaving feed back but I make an exception as the food was top notch will be definitely using again keep up the good work."
26/02/2021
Judith
"Great tasting food"
20/02/2021
John
"Excellent food will definitely be using this takeaway again 😋"
20/02/2021
Menu
Tandoori Chicken (2pc)
On the bone
£6.95
Tikka Chicken or Lamb Chicken
£6.25
Tikka Chicken or Lamb Lamb
£6.25
Mardas Mix Grill
Chicken tikka, lamb tikka, tandoori chicken, sheek kebab, king prawn and naan bread
£7.95
Chicken or Lamb Shashlik Chicken
£6.75
Chicken or Lamb Shashlik Lamb
£7.25
Plain or Spicy Poppadom Plain
£0.60
Plain or Spicy Poppadom Spicy
£0.60
Meal Deal
1 Poppadom - Mint yoghurt, Onion salad
Any Traditional Starter - Excludes Lamb chops and King prawn
Any Traditional or Tandoori Main - Excludes King prawn, Mix grill & Lamb chops
Any Rice or Naan or Chips
Can of Drink
£10.00
Lamb Nashalee
Tender fillet of lamb cooked with green chilli paste and ginger. Hot and spicy
£7.95
Chicken or Lamb Rezala Chicken
Cooked with yoghurt and our chef's special spice mix
£7.95
Chicken or Lamb Rezala Lamb
Cooked with yoghurt and our chef's special spice mix
£7.95
Chicken or Lamb Karahi Chicken
Medium hot dish cooked with onions, peppers, chilli and corriander
£6.95
Chicken or Lamb Karahi Lamb
Medium hot dish cooked with onions, peppers, chilli and corriander
£7.95
Chicken or Lamb Tikka Jalfrezi Chicken
Hot dish cooked using onions, peppers, chilli and corriander
£6.95
Chicken or Lamb Tikka Jalfrezi Lamb
Hot dish cooked using onions, peppers, chilli and corriander
£6.95
Chicken or Lamb Chilli Masala Chicken
Marinated chicken or lamb cooked with onions, peppers, green chilli in a specially prepared masala sauce. Fairly hot
£6.95
Chicken or Lamb Chilli Masala Lamb
Marinated chicken or lamb cooked with onions, peppers, green chilli in a specially prepared masala sauce. Fairly hot
£6.95
Special Garlic Chicken or Lamb Chicken
Thinly sliced chicken or lamb tikka cooked with cloves of crushed garlic, onions, peppers in a special blend of spices and corriander
£7.95
Special Garlic Chicken or Lamb Lamb
Thinly sliced chicken or lamb tikka cooked with cloves of crushed garlic, onions, peppers in a special blend of spices and corriander
£7.95
Desi Khazana
Tender pieces of chicken and king prawn cooked with green peppers, tomatoes, onions in a rich spicy mince meat sauce. Slightly hot
£7.95
Chunky Samosa Meat
Crispy pastry filled with lightly spiced minced lamb or fresh spring vegetable
£2.75
Chunky Samosa Vegetable
Crispy pastry filled with lightly spiced minced lamb or fresh spring vegetable
£2.75
Lamb Chops 3 Pcs
Cooked in a clay oven with onions and peppers
£4.95
Paneer Tikka
Indian cottage cheese cooked in a clay oven with onions and peppers
£3.45
Madras Mix Kebab
Chicken tikka, lamb tikka, sheek kebab and onion bhaji
£3.95
Tandoori Chicken (On the Bone)
£2.95
Murgh Taj India
Chicken tikka, diced and slowly cooked with green peppers and onions in a delicious medium sauce. Finally garnished with caramelised onions and fresh corriander
£7.95
Lamb Shatkora
Tender pieces of lamb tikka cooked in a citrus sauce using a blend of herbs and spices to create a slightly hot bitter sweet flavour
£7.95
Nawabi Chicken or Lamb Chicken
Saucy dish cooked with almod powder and fresh garlic topped with a touch of cream
£7.95
Nawabi Chicken or Lamb Lamb
Saucy dish cooked with almod powder and fresh garlic topped with a touch of cream
£7.95
Chicken Silsila
Succulent chicken tikka cooked with garlic, herbs and original spices. Fairly hot
£7.95
Desi Beef Aloo
Slow cooked on the bone beef in a delicious home made sauce with spicy potatoes. Slightly hot
£7.95
Tandoori King Prawn
Lightly spiced and cooked in the clay oven
£4.95
Salmon Tikka 2pcs
Served with lightly spiced fried onions
£4.95
Pan Fried Seabas
Served with spicy vegetable bhaji
£4.95
Fish Pakora
Strips of tilapia coated in a lightly spiced tempura batter
£3.25
Pathia Puree Prawn
Prawn or king prawn pathia served ona fluffy, puree bread
£3.75
Pathia Puree King Prawn
Prawn or king prawn pathia served ona fluffy, puree bread
£4.55
Chicken or Lamb Biriyani Chicken
£7.25
Chicken or Lamb Biriyani Lamb
£7.25
Tikka Sag Biriyani Chicken
£7.95
House Special Biriyani
Chicken, lamb and prawns
£8.95
Maser Jhool
The original recipe of Bengali fishermen. Chunks of tilapia cooked in a medium tasty sauce
£8.95
Fish Chilli Masala
Fillets of tilapia marinated and cooked with onions, peppers, green chilli in a specially prepared masala sauce. Fairly hot
£7.95
Salmon Fish Silsila
Salmon fillets cooked with garlic, herbs and original spices. Fairly hot
£7.95
Pan Fried Sea Bass
Fillets of sea bass lightly marinated with our chef's seafood spices, pan fried, served with vegetable bhaji
£8.95
Chicken or Lamb Tikka Masala Chicken
£6.95
Chicken or Lamb Tikka Masala Lamb
£6.95
Korma Chicken or Lamb Chicken
£6.95
Korma Chicken or Lamb Lamb
£6.95
Ameri Murgh
Tender strips of chicken cooked with pulp mango, mild spices, in a fresh cream and almond sauce
£6.95
Passanda Chicken or Lamb
Specially cooked silces of chicken or lamb marinated with a yoghurt based sauce, cooked in a fresh cream, mixed ground nuts and almond powder
£6.95
Curry Fresh Vegetable
Medium
£5.75
Bhuna Chicken
Cooked with fresh onions and tomatoes
£5.95
Bhuna Lamb
Cooked with fresh onions and tomatoes
£6.25
Bhuna Prawn
Cooked with fresh onions and tomatoes
£5.95
Bhuna King Prawn
Cooked with fresh onions and tomatoes
£7.95
Bhuna Fresh Vegetable
Cooked with fresh onions and tomatoes
£5.75
Madras Fresh Vegetable
Hot
£5.75
Pathia Chicken
Sweet and sour hot
£5.95
Pathia Lamb
Sweet and sour hot
£6.25
Pathia Prawn
Sweet and sour hot
£5.95
Pathia King Prawn
Sweet and sour hot
£7.95
Pathia Fresh Vegetable
Sweet and sour hot
£5.75
Dupiaza Chicken
Cooked using chunks of onions and green pepper
£5.95
Dupiaza Lamb
Cooked using chunks of onions and green pepper
£6.25
Dupiaza Prawn
Cooked using chunks of onions and green pepper
£5.95
Dupiaza King Prawn
Cooked using chunks of onions and green pepper
£7.95
Dupiaza Fresh Vegetable
Cooked using chunks of onions and green pepper
£5.75
Dansak Chicken
Hot, sweet and sour cooked with lentils and pineapple
£5.95
Dansak Lamb
Hot, sweet and sour cooked with lentils and pineapple
£6.25
Dansak Prawn
Hot, sweet and sour cooked with lentils and pineapple
£5.95
Dansak King Prawn
Hot, sweet and sour cooked with lentils and pineapple
£7.95
Dansak Fresh Vegetable
Hot, sweet and sour cooked with lentils and pineapple
£5.75
Rogan Josh Chicken
Garnished with tomatoes & cashew nuts
£5.95
Rogan Josh Lamb
Garnished with tomatoes & cashew nuts
£6.25
Rogan Josh Prawn
Garnished with tomatoes & cashew nuts
£5.95
Rogan Josh King Prawn
Garnished with tomatoes & cashew nuts
£7.95
Rogan Josh Fresh Vegetable
Garnished with tomatoes & cashew nuts
£5.75
Sagwalla Chicken
Cooked with spinach
£5.95
Sagwalla Lamb
Cooked with spinach
£6.25
Sagwalla Prawn
Cooked with spinach
£5.95
Sagwalla King Prawn
Cooked with spinach
£7.95
Sagwalla Fresh Vegetable
Cooked with spinach
£5.75
Contact Us
Find Us
1774 Coventry Road, Birmingham, B261PB
We deliver to
B10, B11, B25, B26, B27, B33, B37, B9, B92